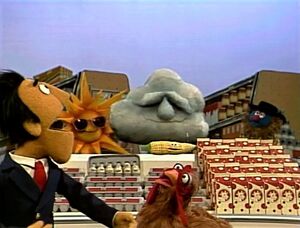 Tiffy dresses like a witch and flies her broom stick around the street.
Big Bird shows Snuffy a magic trick were he will make two elephants appear in his wooden box. However it did not work, he tires again this time with one elephant but that also don't work. Snuffy suggest that he tries again but this time with zero elephants. (EKA: Folge 1655)
Cartoon: Hortense counts 5 dancing brooms.
Ad blocker interference detected!
Wikia is a free-to-use site that makes money from advertising. We have a modified experience for viewers using ad blockers

Wikia is not accessible if you've made further modifications. Remove the custom ad blocker rule(s) and the page will load as expected.