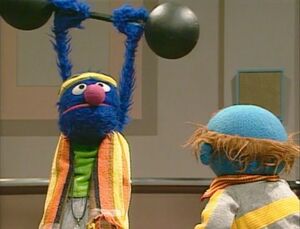 Dariusz Michalcziewski visits Sesamstrasse.
Mr. Johnson goes to the local gym, where Grover is one of the instructors. He is about to help Mr. Johnson work out, but keeps leaving to get his towel, whistle, barbell, and radio. Once he is planned to work out, Grover is too tired to do anything else.
Herry Monster asks the kids at home to do simple exercises with him like moving eyebrows, touching toes with fingers, and running in place. Kermit the Frog makes cameo during the running in place exercise.
Ad blocker interference detected!
Wikia is a free-to-use site that makes money from advertising. We have a modified experience for viewers using ad blockers

Wikia is not accessible if you've made further modifications. Remove the custom ad blocker rule(s) and the page will load as expected.