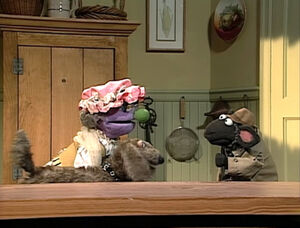 Samson makes a tower of fruit crates, but when he turns his back, he finds it destroyed.
Ernie and Bert explore an Egyptian pyramid. Bert is excited but Ernie is afraid. They see statues that look like them. Bert decides to explore a tunnel while Ernie looks at the statues, and then the Ernie Statue starts tapping and talking to Ernie. But when Ernie calls Bert back to the room, the statue doesn't move. Ernie is scared until the statue starts singing Rubber Duckie with him. Bert doesn't believe Ernie, until he says "Bye-bye, statue," and the statue replies "Bye-bye!" and laughs... just like Ernie.
Colambo visits the home of Old Mother Hubbard to investigate a missing bone for her dog, Bootsie.