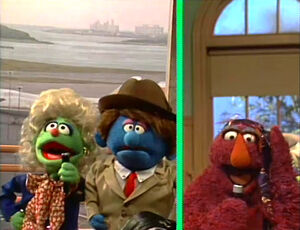 Caveperson Days: King Ernie wants something to drink, so he calls on the Royal Smart Person for help. The royal cow has quit, so there's no milk available. Ernie also shows that there is no liquid inside a rock or a stick. Then the Royal Smart Person suggests that Ernie should try squeezing a round orange thing (an orange), which turns out to have juice inside.
Telly hosts "Here and There" from the library, where it's quiet. His co-host, Debra Starr, is at the airport, where it's loud. The loud noises of the airport eventually make it hard for Telly to hear Debra, so he has to talk louder into the microphone for Debra to hear him, which results in his expulsion.
Ad blocker interference detected!
Wikia is a free-to-use site that makes money from advertising. We have a modified experience for viewers using ad blockers

Wikia is not accessible if you've made further modifications. Remove the custom ad blocker rule(s) and the page will load as expected.