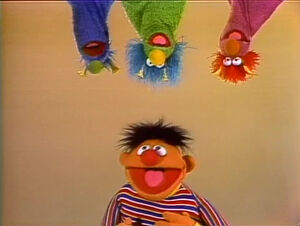 Super Grover: Janet Fringle needs help carrying many boxes. Super Grover suggests gluing them together, but she eventually figures out that taking them one at a time will work.
Pizza maker Original Jay demonstrates how he got his name: his pizzas talk and dance. (Artist: Mo Willems)
After finishing the last of his birthday cookies, Cookie Monster takes a nap and dreams of meeting "The Monster Cookie".
Ad blocker interference detected!
Wikia is a free-to-use site that makes money from advertising. We have a modified experience for viewers using ad blockers

Wikia is not accessible if you've made further modifications. Remove the custom ad blocker rule(s) and the page will load as expected.