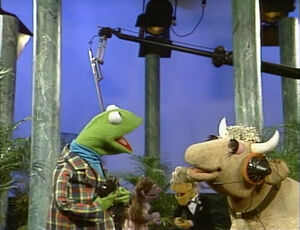 Gladys the Cow helps Kermit direct the dance scene of his movie. Her task is to count backwards from four and yell "action", but she counts forwards instead. Kermit shows her the right way to count and yells "Action!", which Gladys uses as an excuse to begin her dance scene.
Cartoon: The ABC Man presents the letter K.
Ad blocker interference detected!
Wikia is a free-to-use site that makes money from advertising. We have a modified experience for viewers using ad blockers

Wikia is not accessible if you've made further modifications. Remove the custom ad blocker rule(s) and the page will load as expected.