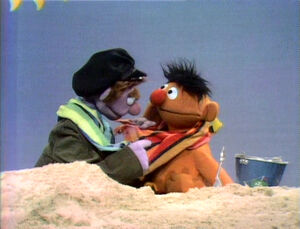 A tough guy named Tough Eddie accidentally knocks over Bert's sand castle while he's sleeping. Ernie points that out to Eddie, and Eddie tells Ernie, in a threatening tone of voice, that he's "got something" for Bert. It turns out to be an ice cream cone.
Kermit talks about the word "in," and a monster (an early Grover) wants to help him teach. Kermit has a big box that he wants Grover to get inside, but Grover can't seem to grasp the concept of IN ... he gets beside the box, on the box, and under the box. Finally, he reveals why he can't get in the box because Fred is already inside it.
Ad blocker interference detected!
Wikia is a free-to-use site that makes money from advertising. We have a modified experience for viewers using ad blockers

Wikia is not accessible if you've made further modifications. Remove the custom ad blocker rule(s) and the page will load as expected.