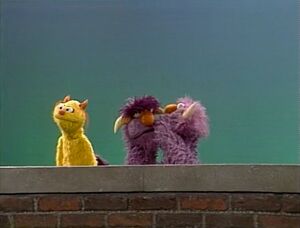 Cartoon: A magician demonstrates "surprise".
Two Anything Muppet boys are in the park, playing hide and seek. One hides while the other says the alphabet. Unfortunately, he doesn't know the whole alphabet, so he asks for help when he gets stuck. The other boy has to come out of his hiding place to help him finish the alphabet. He helps with Z, and then gets caught.
At a library, Cookie Monster asks an Anything Muppet librarian for a box of cookies. The librarian becomes extremely frustrated because Cookie Monster doesn't understand the library doesn't have cookies! (EKA: Folge 0718)
Ad blocker interference detected!
Wikia is a free-to-use site that makes money from advertising. We have a modified experience for viewers using ad blockers

Wikia is not accessible if you've made further modifications. Remove the custom ad blocker rule(s) and the page will load as expected.