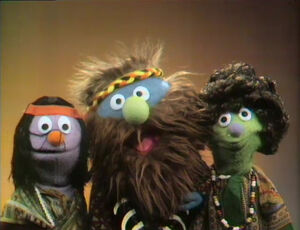 Tiffy plays a joke on the whole street - she pretends to stare at the sky, making others look for what she's looking at.
Bob asks a blank-faced Large Lavender Live Hand Anything Muppet how he feels. The Muppet answers, "I don't feel anything." Bob sticks a nose and angry eyes on the Muppet, who then starts to feel mad. He walks off in a huff, and we hear a crash off-screen. The Muppet comes back and ad-libs, "It's okay, Bob, I just dropped my watch!"
Cartoon: A boy sees an alligator in his room.
Ad blocker interference detected!
Wikia is a free-to-use site that makes money from advertising. We have a modified experience for viewers using ad blockers

Wikia is not accessible if you've made further modifications. Remove the custom ad blocker rule(s) and the page will load as expected.