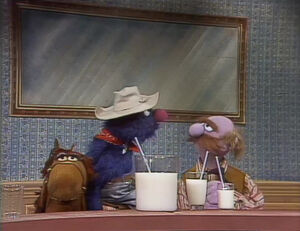 Samson shops at the grocery store.
Marshal Grover and Fred the Wonder Horse are hot and thirsty, so they stop in at the Short Branch Café for a nice cold glass of milk. The bartender is distressed to see Grover riding his horse right inside, knocking over tables. "I just redecorated the place, too," he sighs. Grover orders a glass of milk, and the bartender asks if he wants the big glass, the bigger glass or the biggest glass. Fred tells the bartender that Marshal Grover doesn't know the difference, so the bartender shows off all three sizes. Marshal Grover and Fred come behind the bar to get a closer look, breaking bottles and glassware. The annoyed bartender shouts at Grover to choose a glass, and Grover picks the biggest glass. The bartender asks if Fred wants anything, but Fred says, "No thanks, I'm drivin'." As Grover rides his horse out of the café, the bartender asks who's going to pay for all this stuff. Grover says he'll be back to pay for it tomorrow. Panicked, the bartender says not to come back; it's on the house!
Cartoon: A woman orders 5 tall things.