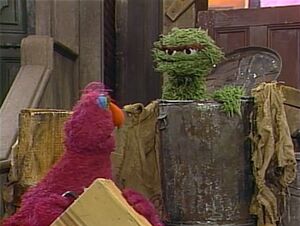 Ernie asks Bert to keep an eye on his pyramid of blocks. The Count walks by, and counts the blocks, moving them out of the pyramid shape. Then he counts them again, putting them back into the pyramid. Bert yells at the Count for moving Ernie's blocks, so the Count counts the blocks again, taking the pyramid apart.
Telly bangs on Oscar's trash can to let him know that he will be away visiting his cousin for one whole day. He fears that Oscar will miss him, so he has prepared all kinds of love messages to him - who could not be more disgusted. Once Telly leaves, Oscar gets a singing telegram delivered.
Ad blocker interference detected!
Wikia is a free-to-use site that makes money from advertising. We have a modified experience for viewers using ad blockers

Wikia is not accessible if you've made further modifications. Remove the custom ad blocker rule(s) and the page will load as expected.