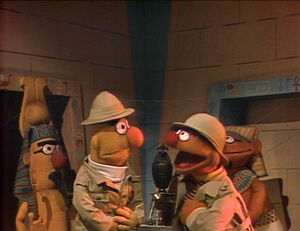 Samson and Schorsch keep their eyes on a pair of suspicious looking characters (played by Friedrich Wollweber and Willy Polaszek).
Ernie and Bert explore an Egyptian pyramid. Bert is excited but Ernie is afraid. They see statues that look like them. Bert decides to explore a tunnel while Ernie looks at the statues, and then the Ernie statue starts tapping and talking to Ernie. But when Ernie calls Bert back to the room, the statue doesn't move. Ernie is scared until the statue starts singing Rubber Duckie with him. Bert doesn't believe Ernie, until he says "Bye-bye, statue," and the statue replies "Bye-bye!" and laughs... just like Ernie.
Ad blocker interference detected!
Wikia is a free-to-use site that makes money from advertising. We have a modified experience for viewers using ad blockers

Wikia is not accessible if you've made further modifications. Remove the custom ad blocker rule(s) and the page will load as expected.