Folge 14: Haarige Zeiten
Talk

0
26,395pages on
this wiki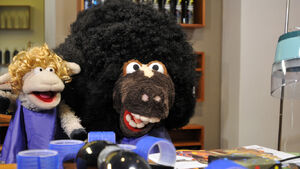 Picture
Segment
Description




Scene

Pferd are knocking everything over on the table, since he can't see anything. Wolle tells him that his hair have grown to big, and tells him that he must go and see a hairdresser to get a haircut. But Pferd tells Wolle that suddenly he can see everything again, so he don't need to go to a hairdresser and then starts to fumble for the cocoa milk. Wolle realize that maybe Pferd are scared to go to the hairdresser, at first Pferd refuses to be scared but then admits maybe his a little bit scared. Wolle tells him that theres nothing to be scared of and suggest that they ask the kids.

Film

Kids talks about going to the hairdresser.




Scene

Even though the kids have said that thers nothing to be scared of, Pferd are still nervous about having scissors so close to his head. But when Pferd notice his hair are in his coca milk he decides that it's time to go to the hairdresser. But before they leave Pferd goes to the bathroom to ask Günni for advice. Günni tells Pferd that he wished that he could go to the hairdresser, as he are tired of having the short hair look and new color. Pferd are a little more calm after the little talk with Günni.

Scene

Wolle and Pferd arrives at the hairdresser and discovers that their multi talented friend Wolke are the hairdresser for the day. Wolle tells Wolke that Pferd are a bit scared for hairdressers, Pferd quickly corrects it to that he are scared for the scissors. Wolke hands Pferd the scissors and lets him cut someof her hair off.




Scene

Pferd are in the chair and Wolke tells him to look trough a book and tell her what kind of hairstyle he would like. Pferd flips trough the book that have Ernie, Bert, Big Bird and Cookie Monster with various hair styles. But it's hard to select a hair style, but Pferd decides that what he want are a hair style that lets him see well. Wolke takes him over to get his hair washed. Meanwhile Wolle takes a closer look in the book and concludes that he could need a new hair style as well. Another hairdresser, a chicken pops up and quickly goes to work on Wolle.

Scene

Wolke works on Pferds hair while the chicken works Wolles.
Pferd are impressed about the result, so are Wolle. Before they leave Pferd asks if Wolke knows a good hairstyle for a toilet. But she don't, then the chicken suggest that they could use a wig and fetches a long haird red wig. Pferd loves it and thinks it just right for Günni.

Scene

Back at the giant carrot, Wolle and Pferd are putting the last touches on Günnis new hair. Günni loves it, and it turns out that each of them loves the hair cut the other have and they decide to go to the hairdresser more often.