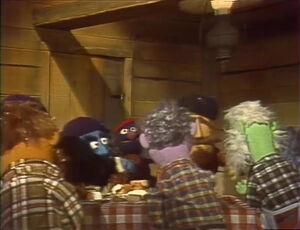 Cartoon: Two balls follow an arrow down a hole.
Grover the lumberjack thinks he is the first to arrive for supper, but he gets trampled by a gang of stereotypical French-Canadian lumberjacks who get to the food table before he has a chance to get his snow boots off. By the time he finally gets them off, a grizzly bear grabs the last plate of food.
Ad blocker interference detected!
Wikia is a free-to-use site that makes money from advertising. We have a modified experience for viewers using ad blockers

Wikia is not accessible if you've made further modifications. Remove the custom ad blocker rule(s) and the page will load as expected.