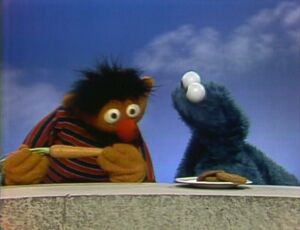 Samson constructs a playing course.
Ernie has a plan to keep his cookies safe from Cookie Monster. When Cookie Monster arrives, Ernie offers him the plate of cookies, then proceeds to brag about how great carrots are. This makes Cookie crave for one and takes Ernie's carrot...then heads for the plate of cookies for dessert.
Cartoon: The ABC Man presents the letter D.
Director Kermit is making a western film with Forgetful Jones as the star. Forgetful is supposed to enter through the saloon doors and shout, "Everybody freeze!" Of course, he forgets this, and instead enters under, around and over the door. He gets the line right for the first three takes, but when he finally goes through the door: "Everybody ... frolic!"
Ad blocker interference detected!
Wikia is a free-to-use site that makes money from advertising. We have a modified experience for viewers using ad blockers

Wikia is not accessible if you've made further modifications. Remove the custom ad blocker rule(s) and the page will load as expected.