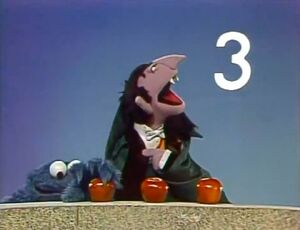 Tiffy gets a box so she can mail something, but when she goes to put it inside, she finds Uli von Bödefeld inside and he refuses to move.
Ernie goes the sweater shop.
The Count tries to count three apples, and gets interrupted by Cookie Monster, who eats them one by one. When he catches Cookie Monster eating them Cookie and the Count count the apple cores.
Film: The Letter Detective searches for the letter W.
Ad blocker interference detected!
Wikia is a free-to-use site that makes money from advertising. We have a modified experience for viewers using ad blockers

Wikia is not accessible if you've made further modifications. Remove the custom ad blocker rule(s) and the page will load as expected.