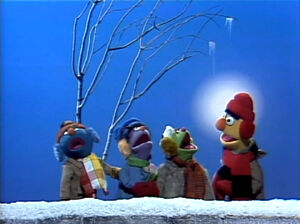 Kermit is a casting director, holding auditions for a performance of "The Three Little Pigs". The pigs who initially try out get the part of the three little pigs, but three different wolves of different sizes try out for the part of the Big Bad Wolf.
Waiter Grover prepares a table for a family, who is celebrating their grandmother's birthday, but Grover doesn't know her name, so when each family member refers to her as a different relative, Grover thinks there's more than one party going on, so he ends up bringing out six cakes.
Ernie notices Bert looking sad for no reason. Ernie lists a number of reasons to be sad, and then Bert feels better, but now Ernie has become sad for no reason.
Ad blocker interference detected!
Wikia is a free-to-use site that makes money from advertising. We have a modified experience for viewers using ad blockers

Wikia is not accessible if you've made further modifications. Remove the custom ad blocker rule(s) and the page will load as expected.