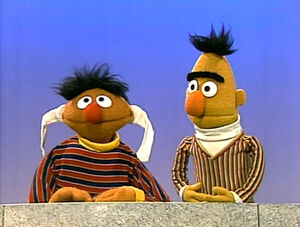 The Two Headed Monster's arrows point in opposite directions, so they straighten the arrows out and follow them.
News Flash: Kermit interviews Ali Baba, who can't seem to figure out the magic word starting with the letter S to open the door to the cave. When Kermit says goodbye to the viewers, he accidentally blurts out "open Sesame (Street News)," to which the rock opens and forty thieves come out, stealing Kermit's watch and all his clothes.
Ad blocker interference detected!
Wikia is a free-to-use site that makes money from advertising. We have a modified experience for viewers using ad blockers

Wikia is not accessible if you've made further modifications. Remove the custom ad blocker rule(s) and the page will load as expected.