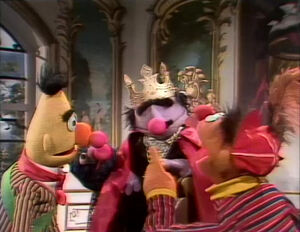 Kermit at Home: Grover is outside in the snow, freezing. He knocks on Kermit's door, and asks for help to get warm. Grover tries to guess how he might get warm, but none of his ideas work. Finally, Kermit tells Grover that if he wants to get warm, he should stay inside. Excited, Grover pulls Kermit aside and slams the door, locking Kermit outside. Grover goes to sleep in Kermit's armchair while the frozen frog pounds on the window.
Kermit helps Don Music finish the "Yankee Doodle" song, then because Don finds the idea of calling feathers macaroni ridiculous, they rewrite it to be a song in which Yankee Doodle stays at home cooking for his pony, puts "fat spaghetti" in a pot and calls it macaroni. Little Chrissy and the Alphabeats then come in and perform the song with Don.
Ad blocker interference detected!
Wikia is a free-to-use site that makes money from advertising. We have a modified experience for viewers using ad blockers

Wikia is not accessible if you've made further modifications. Remove the custom ad blocker rule(s) and the page will load as expected.