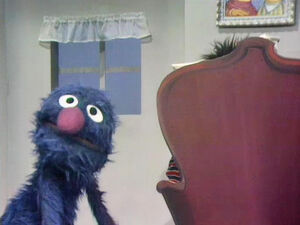 Grover is going to teach the audience about "surprise" by sneaking up on Ernie. He sees Ernie sitting in his chair. He knows that it's Ernie, because he can see Ernie's shirt and Ernie's hair. Grover sneaks up to surprise Ernie -- but then it turns out to be Herry Monster.
Ernie talks about what happens next when he throws a rubber ball, a glass and a watermelon over the wall.
Ad blocker interference detected!
Wikia is a free-to-use site that makes money from advertising. We have a modified experience for viewers using ad blockers

Wikia is not accessible if you've made further modifications. Remove the custom ad blocker rule(s) and the page will load as expected.