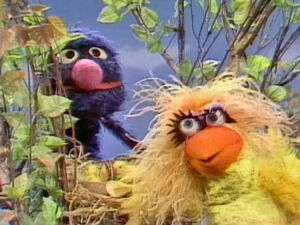 Grover climbs a tree and finds a bird's nest with some eggs in it. The eggs hatch, and the baby birds think Grover is their mommy. When the real mother bird arrives, she mistakes Grover for one of her babies. She gives them all a flying lesson, but Grover promptly falls to the ground.
A caterpillar named Rudy tries to attract the attention of a butterfly.
Ad blocker interference detected!
Wikia is a free-to-use site that makes money from advertising. We have a modified experience for viewers using ad blockers

Wikia is not accessible if you've made further modifications. Remove the custom ad blocker rule(s) and the page will load as expected.