Ad blocker interference detected!
Wikia is a free-to-use site that makes money from advertising. We have a modified experience for viewers using ad blockers

Wikia is not accessible if you've made further modifications. Remove the custom ad blocker rule(s) and the page will load as expected.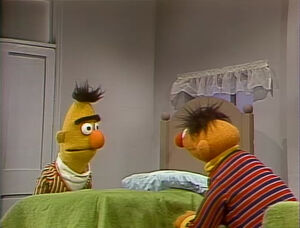 Samson wants to stay up, despite the fact that he's tired.
Ernie and Bert cooperate to make Ernie's bed. Ernie notices that on his bed, which Bert is preparing, there is one side where the blanket is shorter than the other. Bert suggests that Ernie and him cooperate while making the blanket even on both sides, in the process the blanket is shorter at one side than the other.
Herry finds Betty Lou crying: the other kids teased her because she doesn't know the difference between near and far. Herry helps her by placing three little boys in a row: the one who is nearest will get a surprise. When the surprise turns out to be a kiss, the boys start running far away from Herry...