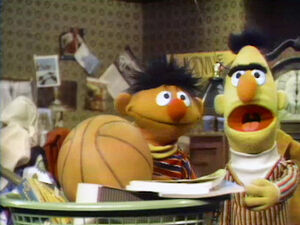 Uli von Bödefeld decides to reside in a laundry basket today, which is then taken by Ute to be washed.
Ernie gets ready to do the laundry, gathering things to do while he's waiting for the laundry to be done. He fills up the laundry basket with toys... and doesn't have room for the laundry.
Competitive flowers in a garden fight to be the tallest and the smallest.
Ad blocker interference detected!
Wikia is a free-to-use site that makes money from advertising. We have a modified experience for viewers using ad blockers

Wikia is not accessible if you've made further modifications. Remove the custom ad blocker rule(s) and the page will load as expected.