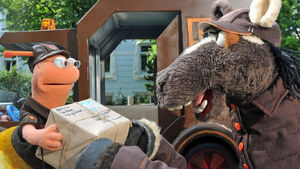 Picture
Segment
Description

Scene
Wole notice that he don't have anymore glue for the kite that he wants to build. The phone rings, it turns out to be Finchen and Wolle asks her to bring some glue. Wolle tells Pferd that Finchen just promised to bring some glue, Pferd wonders what a promise are, he decide to ask the children.

Film
Kids talks about making a promise

Scene
Wolle asks Pferd if he wants to help with the kite after lunch and Pferd promise him to help. Finchen arrives with the glue. Pferd are surprsied about all the packages that Finchen have to deliver. Finchen asks Pferd if he want to help delivering them later and Pferd promises to help. The phone rings and Pferd answers it. It's Wolke who are in a bit of trouble, one of the waiters in her resturant has called in sick and she are need of help right away, Pferd promise her that he will come and help her right away.




Scene
Pferd arrives at the restaurant, but are not sure what he should do. Wolke explains to him what a waiter does and Pferd quickly gets to work. After awhile Pferd remebers that he had promised to help Wolle after lunch. He tells Wolke that he have to go for a short while and he hurries back home.
Wolle are happy to see Pferd as he was getting worried. Pferd tells Wolle that he had forgotten it, but after all a promise is a promise. Wolle shoes Pferd the drawing for the kite, Pferd thinks that it could take quite some time to build. Wolle tells him that it's not a problem since they have all the time they need. Wolle notice that he are missing a few things and goes off to fetch it. Meanwhile Finchen arrives to pick up Pferd so he can help with the packages that she have to pick up at the office. Pferd goes with her as a promise are a promise. After loading the truck Finchen has to do a few things before they can start delivering, Pferd then remembers that the promised Wolke to return quickly.

Scene
Pferd now hurries back and forth between Wolke's resturant, Wolle's workbench and Finchen's truck.

Scene
Wolke asks Pferd what he are doing, one moment he are there the next he's gone. Pferd tells her everything. Meanwhile Finchen notice that Pferd are in the restaurant, Wolle calls her on her cell to asks if she knows where Pferd are and she tells him to meet at the restaurant.


After Finchen and Wolle has arrived, they discover that Pferd has promised to help all of them and that he tried to keep all the promises since you have to hold whatever you promise. Wolke explains that you can't have so many promises at the same time as Pferd had. Pferd says that he are very tired after trying to uphold so many promises. Wolke suggest that Pferd takes a break so he can relax.

Scene
Finchen and Wolle tells Pferd to enjoy his cup of hot chocolate and just relax as he has done more than enough today. Pferd promise it, and Finchen tell him to be more careful about what he says.