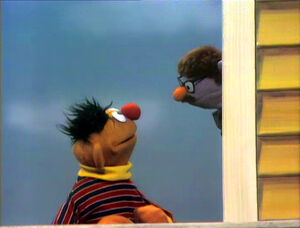 Ernie wants to borrow Herbert Birdsfoot's vacuum cleaner, but he worries about how Herbert will respond. Maybe Herbert's taking a bath, and he'll be so angry at Ernie for interrupting him that he'll tell everyone to never loan Ernie anything ever again!
Ad blocker interference detected!
Wikia is a free-to-use site that makes money from advertising. We have a modified experience for viewers using ad blockers

Wikia is not accessible if you've made further modifications. Remove the custom ad blocker rule(s) and the page will load as expected.