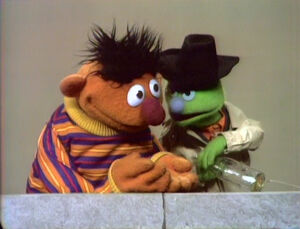 Lefty the Salesman sells Ernie some air, but when Ernie waves to Bert, wanting to show it to him, he drops it. According to Bert (who didn't know what Ernie had), "It couldn't have vanished into thin air." But Ernie sobs, "Yes, it could, Bert! It could!"
Professor Hastings conducts a lecture about the ways people feel, but keeps drifting off. Meanwhile, two groups of Muppets behind him pass by; one cheering for their winning team, and the others crying for the losing team. (EKA: Folge 0029)
Ad blocker interference detected!
Wikia is a free-to-use site that makes money from advertising. We have a modified experience for viewers using ad blockers

Wikia is not accessible if you've made further modifications. Remove the custom ad blocker rule(s) and the page will load as expected.