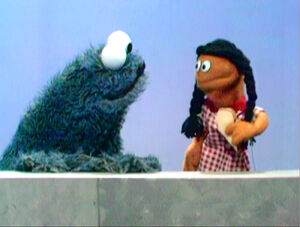 Cookie Monster asks a girl the instructions of creating an egg sandwich; which is by combining - slices of bread, butter, a hard boiled egg, and salt together. Cookie literally follows the instructions by placing the ingredients in his mouth, much to the chagrin of the girl.
Ernie wants to show Bert his ice-cube collection. The ice cubes were so cold that he had to put them in a box covered with an electric blanket. Much to Ernie's surprise, the ice cubes have disappeared. Since they were replaced with water, Ernie suspects that a fish might have stolen them. Bert tells him that it's because they've melted. Ernie, however, is now convinced that a fish melted the ice cubes, and angrily walks out the door to "tear him fin-from-fin."
Ad blocker interference detected!
Wikia is a free-to-use site that makes money from advertising. We have a modified experience for viewers using ad blockers

Wikia is not accessible if you've made further modifications. Remove the custom ad blocker rule(s) and the page will load as expected.