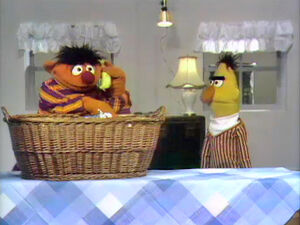 Bert hears the phone ringing inside a basket, and asks Ernie to answer it. Ernie goes through the basket, and finds a banana. He pretends it's a phone, and gives it to Bert to talk to. Ernie answers the real phone, and tells the caller that Bert can't come to the phone because he's talking on the banana.
Ad blocker interference detected!
Wikia is a free-to-use site that makes money from advertising. We have a modified experience for viewers using ad blockers

Wikia is not accessible if you've made further modifications. Remove the custom ad blocker rule(s) and the page will load as expected.