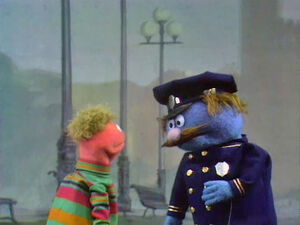 Big Bird wants to tell the viewing "goodbye" in Spanish. He learns it's "ádios" and practices saying it over and over.
Kermit the Frog plans to talk about the letter F, but Beautiful Day Monster delivers an E instead, so he fixes it by using an ax and chopping off the bottom line of the E to make it look like an F.
Charlie is lost and finds a policeman. It's his Uncle Louie, but he doesn't recognize him in uniform. Without the uniform on, Charlie asks Uncle Louie to find him a policeman.
A fairy godmother turns Cookie Monster into a handsome prince. He thinks it's ugly, and uses the wand to change her into her original form, Herry Monster wearing a wig. As monsters, they fall in love.
An Anything Muppet boy meets Alphabet O'Malley, whose full name consists of twenty-six first names, each one starting with a different letter of the alphabet.
Cookie Monster hangs his head down in sadness. Ernie gives a lengthy speech on how looking up is the key to happiness. While his head's in the clouds, Cookie looks up toward Ernie's cookie box and empties it, making him happier.