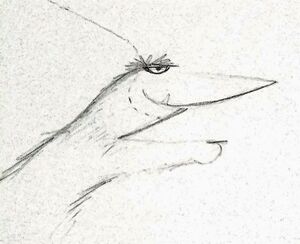 The Flute-Snatcher is a brown beaked monster who was created by Jim Henson for an unaired General Foods commercial in 1966 for three snack foods -- Wheels, Flutes and Crowns. In Jim Henson's Designs and Doodles, Alison Inches describes the Flute-Snatcher as "a speed demon with a long, sharp nose and windblown hair."[1]
He was used for various inserts in the first season of Sesame Street. In one sketch, he watched a giant letter A with Cookie Monster, Fred's son, Beautiful Day Monster, an early Grover, and Scudge. He also briefly appeared in one of the Numerosity inserts with the early Grover, Beautiful Day Monster, Snork, and Thudge.
The Flute-Snatcher later appeared briefly in the 1970 special The Great Santa Claus Switch (as one of the background henchmen) and in 1984's The Muppets Take Manhattan as one of the wedding guests, sitting at the end of the fourth row on the bride's side.
Sources
↑ Jim Henson's Designs and Doodles, Alison Inches, 2001, Harry N. Abrams, Inc., p. 93.
Ad blocker interference detected!
Wikia is a free-to-use site that makes money from advertising. We have a modified experience for viewers using ad blockers

Wikia is not accessible if you've made further modifications. Remove the custom ad blocker rule(s) and the page will load as expected.