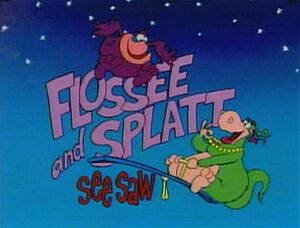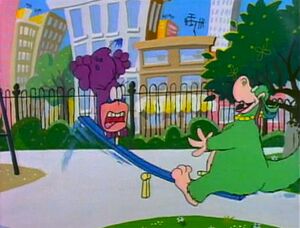 Flossee and Splatt is an animated segment on Sesame Street. (First: Episode 3024) Produced by Studio B Entertainment in Ontario, Canada, the skit stars two creatures of indeterminate species: the purple Splatt (voiced by Kevin Clash) and his green dinosaur friend Flossee. Music and sound effects were produced by Frank Ludwig and Paul MacDonald.
Plot
Flossee, while driving, sings "She'll Be Coming Around the Mountain." Splatt asks Flossee to stop the car (and not her singing, as she assumes) so Splatt can play on a seesaw. Flossee weighs too much, however, catapulting Splatt. The segment demonstrates basic rules of physics and action/reaction.
Notes
External links
Segment posted to Fran Ludwig's YouTube channel This version differs slightly from the televised version, which adds a transition and voice-over from Clash after the title card. The televised version also omits a portion of the ending.