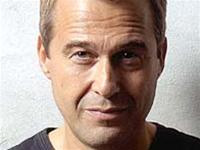 Flemming Enevold (b. 1952) voiced Philo and various other characters on Fragglerne, the Danish version of Fraggle Rock.
He graduated from The Danish National School of Theater in 1975. He is mostly a theater actor; among his credits are The Phantom of the Opera, Cyrano de Bergerac, and many others. His movie and television credits include Rejseholdet, Edderkoppen, Nyt legetøj and Flammen og Citronen.
In 1991, he founded the comedy group Ørkenens Sønner (Sons of the Desert) along with Henrik Kofoed (the voice of Wembley in Fragglerne), Søren Pilmark, and Asger Reher. In 1994, he left the group due to his job as a theater manager for the Gladsaxe Theater, a position he had held since 1992, and was replaced by Niels Olsen (who voiced Uncle Albert in Sandtrolden). His employment at Gladsaxe theater ended in 2006 due to closure of the theater for financial reasons.
External links
Ad blocker interference detected!
Wikia is a free-to-use site that makes money from advertising. We have a modified experience for viewers using ad blockers

Wikia is not accessible if you've made further modifications. Remove the custom ad blocker rule(s) and the page will load as expected.