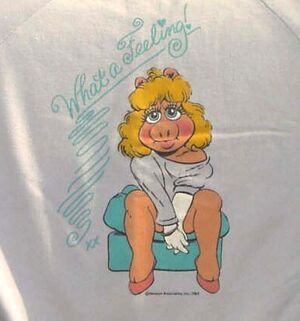 Flashdance was 1983's third highest grossing film. A romatic musical movie, its sountrack featured many hit songs, including "Maniac" and "Flashdance... What a Feeling." Not being a musical in the traditional sense, the film gained additional promotion on the fledgling network MTV, where portions of the film were shown as musical videos, including Jennifer Beals' now infamous chair dance.
References
Miss Piggy aerobique sweatshirts featured a nod to the film in a sweatshirt which featured the quote "What a Feeling!" (a reference to the hit song "Flashdance... What a Feeling" performed by Irene Cara). Piggy is also seen in Jennifer Beals' signature look for the film.
External links
Ad blocker interference detected!
Wikia is a free-to-use site that makes money from advertising. We have a modified experience for viewers using ad blockers

Wikia is not accessible if you've made further modifications. Remove the custom ad blocker rule(s) and the page will load as expected.