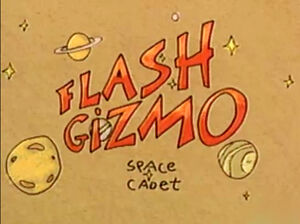 Flash Gizmo, Space Cadet is a recurring series of animated segments that premiered on Sesame Street in the late 1990s.
In each segment, an announcer introduces Flash Gizmo (voiced by David Rudman), who illustrates a certain topic. Each segment ends with Flash experiencing some type of physical harm because of the lesson.
Ad blocker interference detected!
Wikia is a free-to-use site that makes money from advertising. We have a modified experience for viewers using ad blockers

Wikia is not accessible if you've made further modifications. Remove the custom ad blocker rule(s) and the page will load as expected.