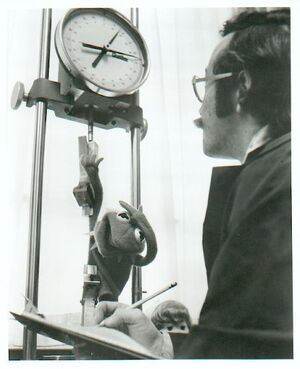 In the early 1980s, Fisher-Price used a Kermit puppet as part of an advertisement about toy safety. The image was titled "Developing Toys with a Child's Smile in Mind", and distributed with the following text:
"

Muppet character Kermit the Frog undergoes rigorous testing and evaluation at the Fisher-Price quality assurance laboratory. Here Kermit is subjected to a "rack"-type test to make certain little hands can't accidentally pull his seams apart. Typically, Fisher-Price toys meet or exceed all industry and government standards; one of the reasons they have always been past [sic] from one generation to another.

"
Ad blocker interference detected!
Wikia is a free-to-use site that makes money from advertising. We have a modified experience for viewers using ad blockers

Wikia is not accessible if you've made further modifications. Remove the custom ad blocker rule(s) and the page will load as expected.