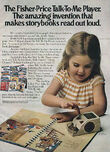 Fisher-Price Talk-to-Me-Books were a collection of books released by Fisher-Price. A small, colored vinyl circle (similar to a phonograph record) was attached to each page. A special player, known as the "Fisher-Price Talk-to-Me Player", could be put on these circles, allowing the reader to listen to the characters telling the story.
Fisher-Price released a set of five Sesame Street books in 1978. In 1979, Fisher-Price added a title based on The Muppet Show to the series.

Ad blocker interference detected!
Wikia is a free-to-use site that makes money from advertising. We have a modified experience for viewers using ad blockers

Wikia is not accessible if you've made further modifications. Remove the custom ad blocker rule(s) and the page will load as expected.