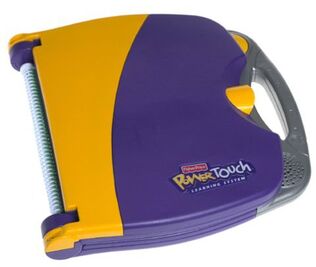 In 2003, Fisher-Price released a PowerTouch Learning System. Designed for children ages 3 to 8, the laptop-style toy comes with two spiral bound books and cartridges which can be used in the system for interactive reading and learning games. An included stylus along with a series of function buttons allows the child to explore the book and its content.
One of the books packaged with the toy is "Ernie's Neighborhood;" two additional Elmo titles are also available for purchase.

Ad blocker interference detected!
Wikia is a free-to-use site that makes money from advertising. We have a modified experience for viewers using ad blockers

Wikia is not accessible if you've made further modifications. Remove the custom ad blocker rule(s) and the page will load as expected.