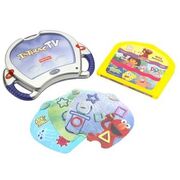 Fisher-Price InteracTV is an electronic learning system from Fisher-Price which has an InteracTV DVD to be inserted into a home DVD player, a controller and activity cards based on popular children's television shows. There was one version that features Sesame Street activity cards with Elmo's World on it, along with Dora the Explorer and SpongeBob SquarePants.
Ad blocker interference detected!
Wikia is a free-to-use site that makes money from advertising. We have a modified experience for viewers using ad blockers

Wikia is not accessible if you've made further modifications. Remove the custom ad blocker rule(s) and the page will load as expected.