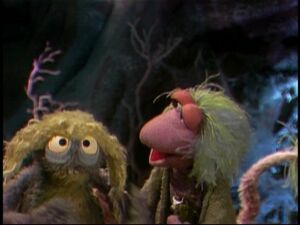 Mokey meets Begoony, a magical but desperately lonely creature. Mokey tries to help her friends run a Fraggle puppet show, but Begoony's demands for attention run her ragged.
Meanwhile, Sprocket goes out with Marigold and ends up running himself ragged. Doc tries to build a dishwasher that will double as a cupboard.
Supporting cast
Songs
Notes
This episode marks the first appearance of the Inkspots.
Video releases
References
The episode title is a play on the sci-fi movie The Incredible Shrinking Man.
Ad blocker interference detected!
Wikia is a free-to-use site that makes money from advertising. We have a modified experience for viewers using ad blockers

Wikia is not accessible if you've made further modifications. Remove the custom ad blocker rule(s) and the page will load as expected.