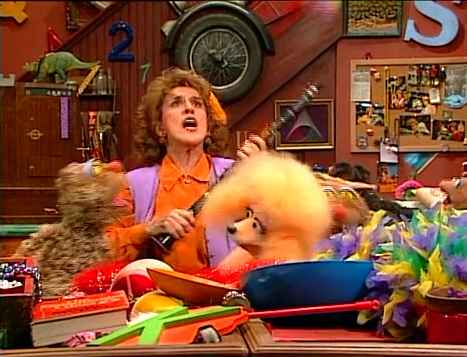 Finders Keepers is a second-hand store located Around the Corner on Sesame Street, owned and operated by Ruthie. Many of the items in Finders Keepers' inventory are objects previously owned by fairy tale characters. Finders Keepers was first seen in Season 25 (Episode 3136) where Ruthie introduces Big Bird to Little Green Riding Hood, who is angry about her her sister's fame. Apparently, "Finders Keepers" was dropped after Season 29 with the "Around the Corner" sets, but Ruthie still made some appearances until Season 32 without Finders Keepers. The last appearance of "Finders Keepers" was in The Adventures of Elmo in Grouchland.
Included in her stock are 10 pieces she bought at the 1993 Monster Art Show, but was unable to sell as of nearly a year later.
Ad blocker interference detected!
Wikia is a free-to-use site that makes money from advertising. We have a modified experience for viewers using ad blockers

Wikia is not accessible if you've made further modifications. Remove the custom ad blocker rule(s) and the page will load as expected.