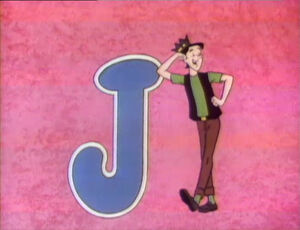 Filmation was an animation studio founded by Lou Scheimer, working primarily in television, known for producing The Archie Show, He-Man and the Masters of the Universe, Fat Albert, and several animated series based on DC Comics characters. The studio later produced a few live-action Saturday morning series, most notably Shazam! (1974-1977).
Segments
Filmation contributed several animated Sesame Street inserts, some featuring stock footage and others new animation, showcasing their then current comic-based stars.
Stock footage from The New Adventures of Superman episode "The Chimp Who Made It Big"" was used for the letter D, included in the first test pilot. New footage (with the voice of frequent Filmation player Lennie Weinrib as Superman) was later made for a segment on the letter S. (EKA: Episode 0184)
Jughead Jones, from Filmation's various Archie series, also guest starred. The background music for the J story was the "Hot Dog Theme" (by Ray Ellis and Filmation director Norm Prescott), used to underscore Jughead's pet Hot Dog.