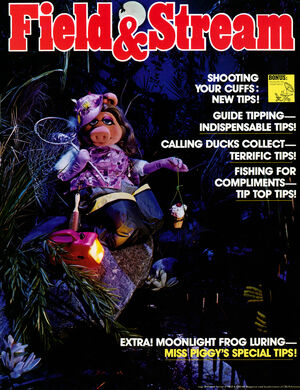 Field & Stream is a magazine focused on hunting, fishing, and similar outdoor activities. The magazine was founded in 1895, and over its history has been owned by companies such as CBS and Time Inc. Depending on the season, the magazine may focus on Deer, Fish, Birds, and firearms.
The magazine was referenced in The Miss Piggy Cover Girl Fantasy Calendar with the August entry "How I Caught My Frog".
External links
Ad blocker interference detected!
Wikia is a free-to-use site that makes money from advertising. We have a modified experience for viewers using ad blockers

Wikia is not accessible if you've made further modifications. Remove the custom ad blocker rule(s) and the page will load as expected.