Written by
John Davenport and Eddie Cooley
Date
1956
Publisher
Fort Knox Music Inc.; Trio Music Co.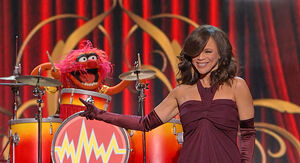 Rita Moreno sings "Fever" on episode 105 of The Muppet Show, backed by Floyd on bass and Animal on drums. Animal proves a little too enthusiastic with the drumming, which threatens to throw off her performance. The ready-to-fight Rita gives him warning in Spanish and English, but he merely scoffs at the admonestation, provoking an aggressive about-turn of Rita, and becomes even less restrained. At the end of the song, she smashes his head between two cymbals. He is thrilled by this, exclaiming, "That my kind of woman!"
Otis Blackwell wrote "Fever" with Eddie Cooley under the pseudonym, John Davenport.
Miss Piggy performed "Fever" at the Hollywood Bowl in summer 2006.
Animal and Rosie Perez reenacted the bit from The Muppet Show at 2015's Kennedy Center Honors as a tribute to Moreno.
Amy Schumer and Questlove reenacted the bit on a 2016 episode of Inside Amy Schumer as a tribute to The Muppet Show.
Video releases