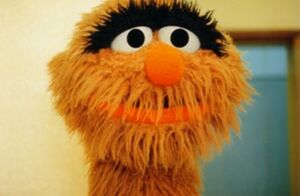 Ferrão was a brown Grouch who lived in a crate of wood in Rua Sésamo, next to the office of André.
This Grouch, wilful and sometimes rude, but also able to be pleasantly desirable. Like Cookie Monster he has a favorite food, the Agripino. Although no one else would thing about eating his favorite but miraculous vegetable, Ferrão just eats the it alone (knowing offcourse how to prepare it intothe most greatest, hambúrguers, soup, stew, between other prescriptions). He likes to talk with Carolina and André, trying always to know things better in the conversations.
António Pinto performes his left hand.
See also
Ad blocker interference detected!
Wikia is a free-to-use site that makes money from advertising. We have a modified experience for viewers using ad blockers

Wikia is not accessible if you've made further modifications. Remove the custom ad blocker rule(s) and the page will load as expected.