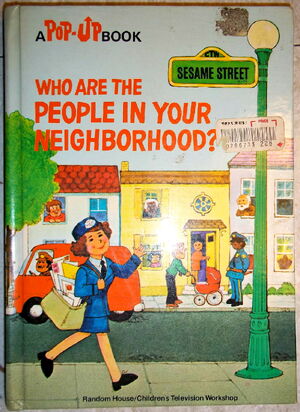 Ferd Sondern is an illustrator and cartoonist who illustrated two early Sesame Street pop-up books, The King on a Swing (1972) and Who Are the People in Your Neighborhood? Neither book features established Muppet or human characters, despite the latter title's song tie-in.
Most active in the 1960s and 70s, Sondern supplied cartoons for A New Answer Book (1977) and illustrated Three-Horn the Dinosaur, an adaptation of Pinocchio, Colorforms ABCs, and Finnerty Flynn and the Singing City by Clark Gesner. Sondern also illustrated greeting cards and, in adult fiction, a novelization of Rod Serling's Requiem for a Heavyweight. He still contributed to art shows in Pennsylvania as late as 2008.[1]
Soucres
↑ "All Island Art Show Paints a Pretty Picture." August 4, 2008
Ad blocker interference detected!
Wikia is a free-to-use site that makes money from advertising. We have a modified experience for viewers using ad blockers

Wikia is not accessible if you've made further modifications. Remove the custom ad blocker rule(s) and the page will load as expected.