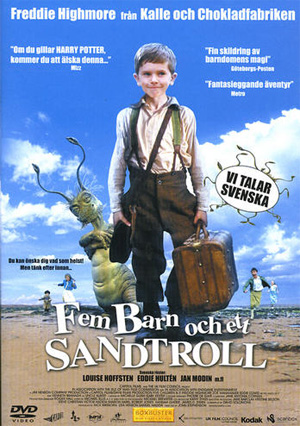 Fem Barn och ett Sandtroll is the Swedish dub of Five Children and It. The movie premiered in Sweden on October 28, 2005.
Voices
Norea Sjöquist as Jane
Jasmine Heikura as Anthea
Fredrik Dolk as Uncle Albert
Louise Hoffsten as Mother
Eddie Hultén as Robert
Oskar Nilsson as Cyril
Hugo Paulsson as Horace
Angela Kovács as Martha
Mats Qviström as Peasemarsh
Additional Voices: Peter Sjöquist, Dan Bratt, Lawrence Mackrory, Jessica Strömberg, Caroline Strömberg
Additional Credits
Translation: Thomas Jansson, Scandinavian Text Service
Dubbing director: Dan Bratt
Sound engineers: Johan Lejdemyr, Robert Iversen and Magnus Veigas
Producer: Svend Christiansen and Sun Studio A/S
Dubbing Studio: Sun Studio A/S
Ad blocker interference detected!
Wikia is a free-to-use site that makes money from advertising. We have a modified experience for viewers using ad blockers

Wikia is not accessible if you've made further modifications. Remove the custom ad blocker rule(s) and the page will load as expected.