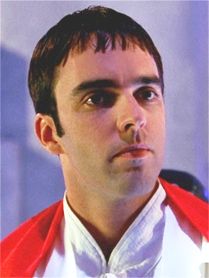 Felix Williamson is an Australian actor who played Prince Clavor in the Farscape "Look at the Princess" trilogy: "A Kiss Is But a Kiss," "I Do, I Think," and "The Maltese Crichton." Williamson also plays Nick Carlson, Eddie's dad, in the Henson Company and Creature Shop television series Me and My Monsters.
A graduate of Australia's National Institute of Dramatic Art (NIDA), Williamson performed on stage in Shakespeare and other classical works. His film credits include small parts in the Babe sequel Babe Pig in the City, The Thin Red Line, with more substantial roles in the Australian films The Wannabes and Ned. He also served as motion-capture performer for the animated feature Happy Feet. In television, he guest starred on Lost in the second season episode "?," as coroner Dr. Ian McVay.
External Links
Ad blocker interference detected!
Wikia is a free-to-use site that makes money from advertising. We have a modified experience for viewers using ad blockers

Wikia is not accessible if you've made further modifications. Remove the custom ad blocker rule(s) and the page will load as expected.