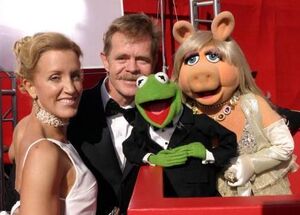 Felicity Huffman (b. 1962) is an American actress best known for her role as Lynette Scavo on Desperate Housewives. Nominated for an Academy Award for her role in Transamerica, she is also the wife of actor William H. Macy. Macy and Huffman were interviewed by Kermit and Miss Piggy at the 2004 Primetime Emmy Awards Ceremony.
Among Huffman's other television credits are guest spots on Frasier, The X-Files, The West Wing, and Law & Order.
External links
Ad blocker interference detected!
Wikia is a free-to-use site that makes money from advertising. We have a modified experience for viewers using ad blockers

Wikia is not accessible if you've made further modifications. Remove the custom ad blocker rule(s) and the page will load as expected.