Ad blocker interference detected!
Wikia is a free-to-use site that makes money from advertising. We have a modified experience for viewers using ad blockers

Wikia is not accessible if you've made further modifications. Remove the custom ad blocker rule(s) and the page will load as expected.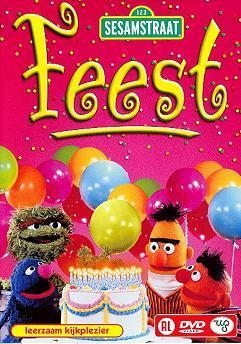 Feest (Party) is a DVD release of Sesamstraat, the Dutch co-production of Sesame Street.
This DVD was produced in honor of Sesamstraat's 25th anniversary in 2001. It contains a sixty minute compilation of insert clips from the Dutch episodes and American clips dubbed to Dutch, with "parties" as a running theme.
Cookie Monster is a notable omission in the 25th anniversary celebration.
This DVD was the 14th Sesamstraat DVD produced by Weton Wesgram (SESDVD014) in a series of Sesamstraat compilations. It was also released on VHS.
Segments
Dutch Cast: Carnival In The Kitchen
Muppets: "Happy Tappin' with Elmo" (Elmo's debut)
Cartoon: Magician adds numbers
Dutch Cast: Days of the Week (part one)
Dutch Cast: Days of the Week (part two)
Cartoon: Bird counts three balloons
Dutch Cast: Days of the Week (part three)
Muppets: "Alphabet Disco" with Grover
Dutch Cast: Tommie sings: "Morgen Ben Ik Jarig" (Tomorrow Is My Birthday)
Muppets: Old West: Bad Bart's Surprise
Cartoon: Five Dancing Men
Muppets: The Count sings: "I Love a Waltz"
Dutch Cast: Ieniemienie's Crafts Club: Serpentines
Muppets: Easy Rhythm Rhyming Alphabet (with Ferlinghetti Donizetti and Grover)
Stop Motion: Five Dancing Chairs
Dutch Cast: Good Mood Shop
Muppets: Bert and Ernie: "Feelin' Good/Feelin' Bad"
Dutch Cast Little Bad Boy - Frank reads a story
Muppets: Kingston Livingston III's Dance
Dutch Cast/Live Action: Balloon poem
Dutch Cast: Tommie celebrates a plant's birthday
Dutch Cartoon: Party (sung by Ieniemienie)
Muppets: Oscar the Grouch tells Telly Monster about his surprise birthday party
Cartoon: Forward, Backward
Dutch Cast/Location: Frank finds "birthday plants"
Muppets: Cricket Boogie
Cartoon: Up, Down
Muppets: Forgetful Jones sings to Clementine on her birthday
Dutch Cartoon: Parade (sung by Ieniemienie)
Muppets: Two-Headed Monster: Surprise
Cartoon: Oh, What A Wonderful Party
Muppets: One Banana
Cartoon: F Candles
Muppets: Lambaba
Dutch Cast: Prins Vads' Birthday - Frank reads a story