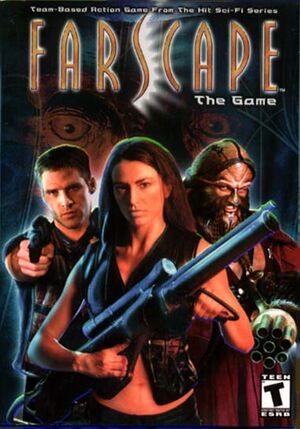 Farscape: The Game is a computer game adaptation of Farscape, released for Windows. Released in 2002, the game was developed by Jim Henson Interactive with Red Lemon Studios, and published by Simon & Schuster Interactive.
The plot, set during the timeline from the show's first season, involves an attack on Moya by the Peacekeepers, leaving Crichton and Chiana stranded on a desert planet (where they must help the local villagers), D'Argo and Aeryn taken prisoner, Rygel trying to escape out of Moya, and Zhaan missing. The game allows players to assume the roles of all six principal characters at different times during the gameplay.
Credits
Game Design: Jonathan Dawson, Alan McDairmant, Chris McMahon
Executive Producer: Elizabeth J. Braswell
Senior Producer: Alan McDairmant
Written by: Nigel Kennington, Alan McDairmant
Art Director: Paige Pooler
Voices
Additional Voices: Tom Eastwood, Stuart Milligan, Stella Monsell, Sarah Easton, Jay Simon, Marc Thompson
External links
Ad blocker interference detected!
Wikia is a free-to-use site that makes money from advertising. We have a modified experience for viewers using ad blockers

Wikia is not accessible if you've made further modifications. Remove the custom ad blocker rule(s) and the page will load as expected.